South to Kanchanaburi
Posted by TravellingStrom on January 17, 2013
Brekky was a smorgasbord and included in the room price, so I went down quite early and hoed in
Yesterday was 404km and today was 375km, and I planned on taking it easy as I knew it would warm up like yesterday. Once again for this leg I had to sort out the route from road numbers as supplied by Ron, this time it looked like a lot less of the HW1 would be used, in fact none.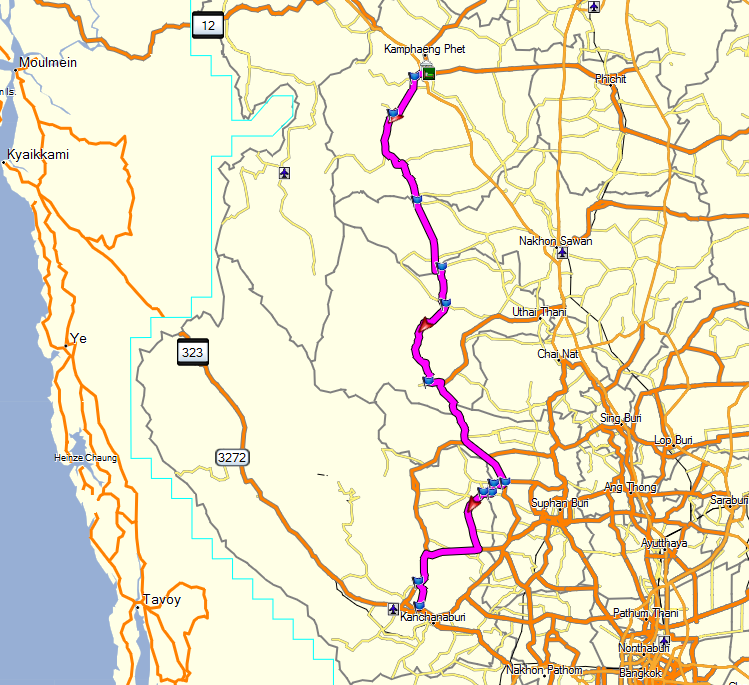 I headed off around 10 and I was soon riding among the newly planted rice fields. I turned onto the 1072 and a bit down the road spotted a temple slightly different than the norm. It had the gold Buddha image outside, but the temple itself had no red nor gold colours, it was blue and looked like a ski resort or hotel, but I did see orange clad monks wandering around. I call it the Blue Temple but it's real name is the Wat Pa Thammathara and is at N16.05669 E99.41000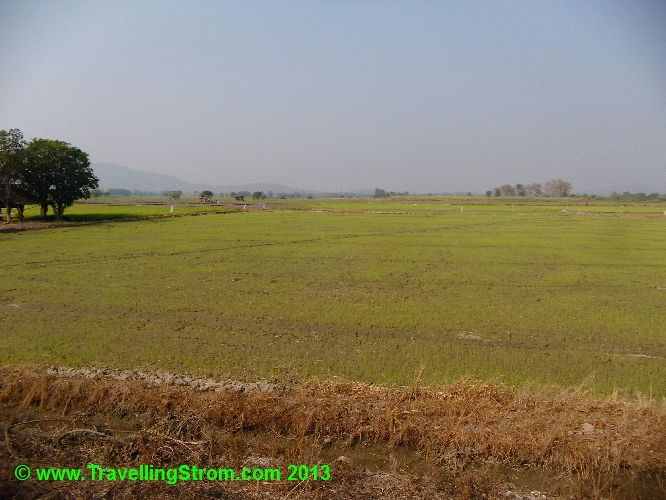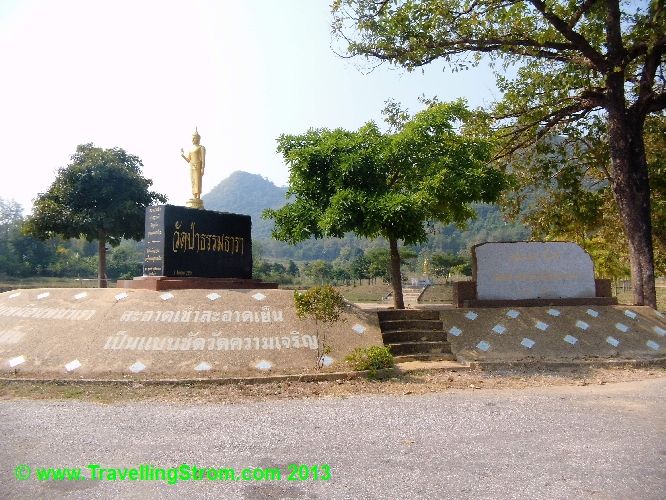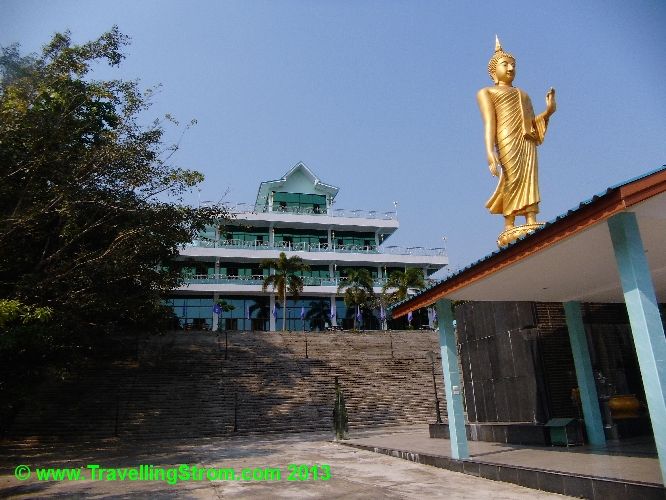 I continued on through more rice fields, some more advanced than others until I found the road 2456, where I turned and found a real nice shady spot for a snack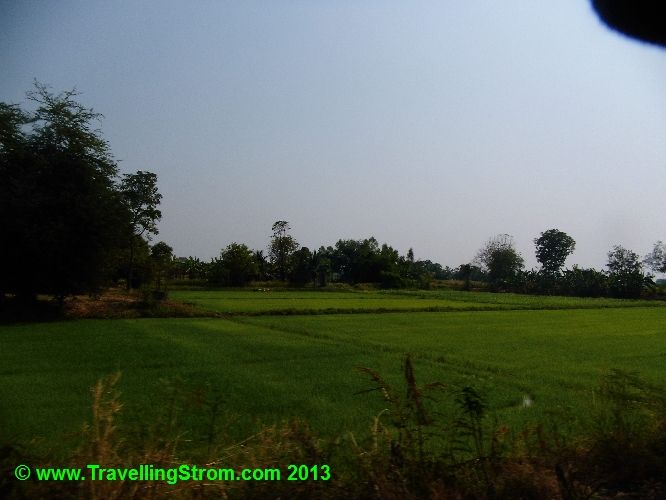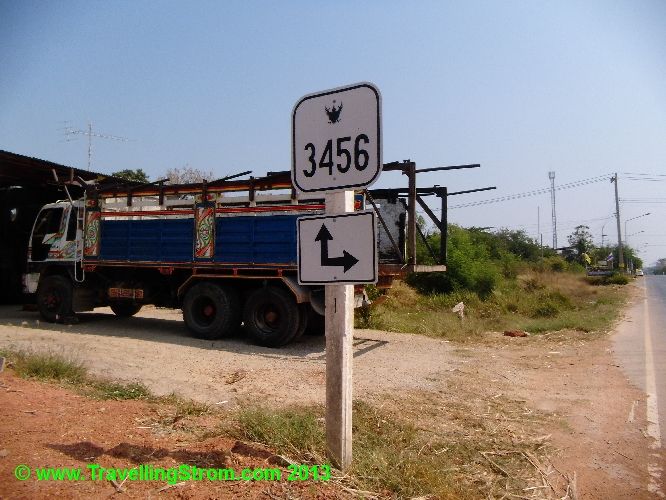 I have seen some funny sights in my travels, but this one takes the cake, we are talking about a very serious boom box here!!!!!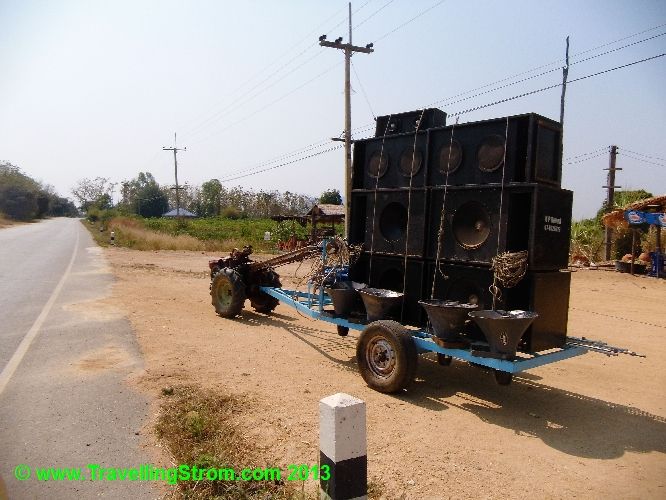 I carried on and turned onto the 3282 and a short while afterwards spotted a likely place to get lunch. Once again I got lucky with some local who helped me order and I was soon chowing down into another Pad Thai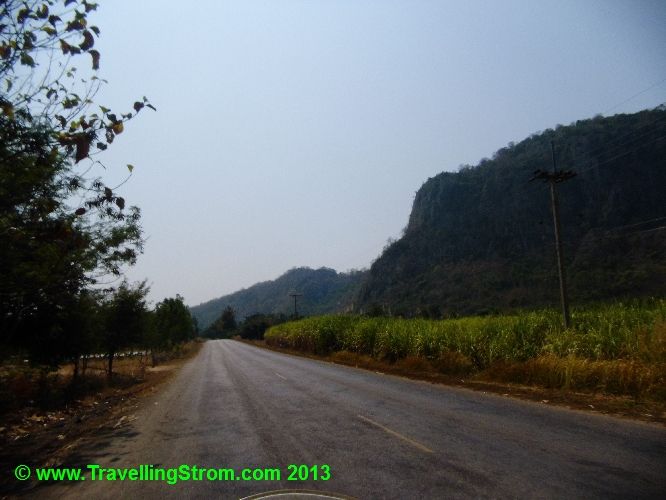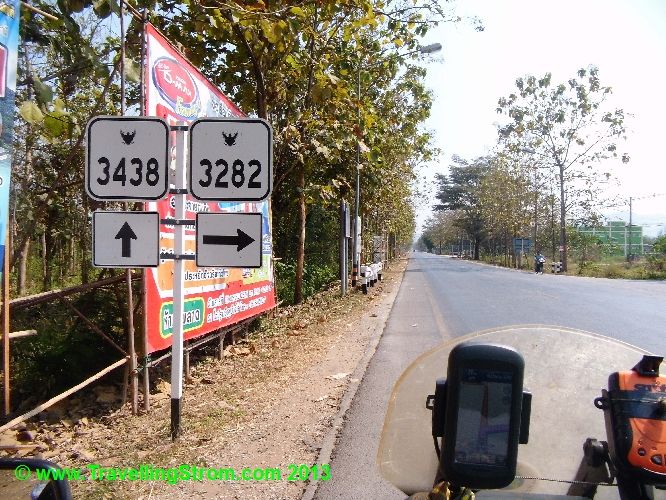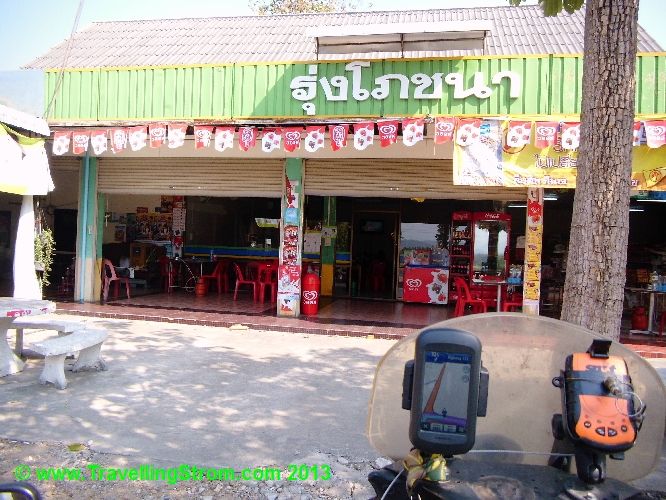 After lunch I was soon amongst the trucks again, they were carrying sugar cane and leaving trash all over the road. About 90% of the trucks were carrying the full length cane, I only spotted a few with chopped ones indicating a mechanical harvester, these were all hand cut. I also went past the sugar mill with a line up of trucks that were backed up for ages. Nothing like the sugar locos up in Queensland which are 2kms long during the harvest.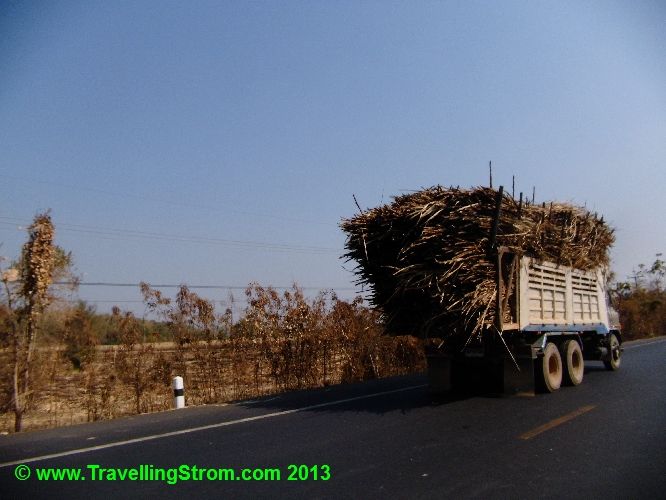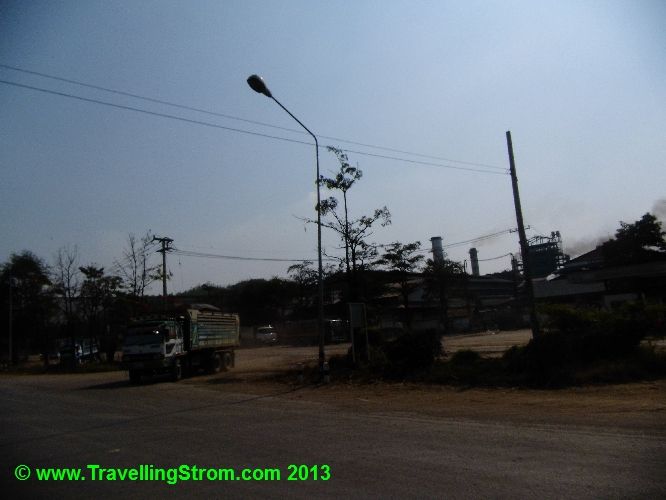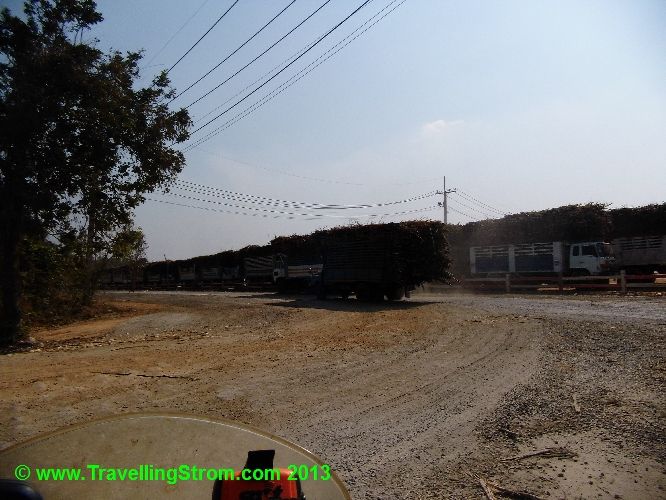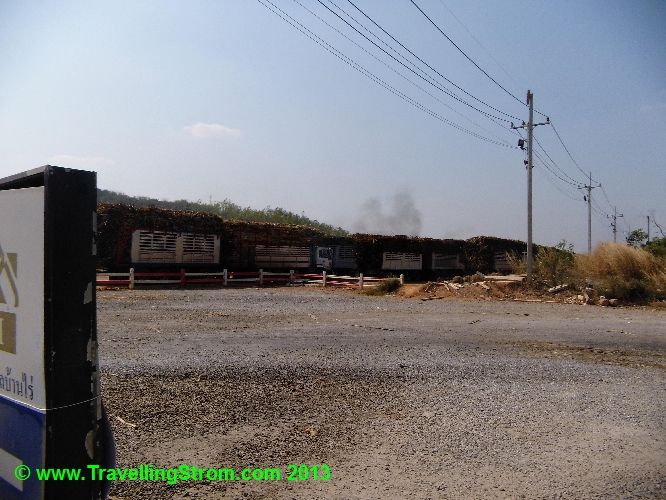 Of course with most of the cane fields being harvested by hand they still use the old practice of burning, it is needed to kill or scare the snakes and other animals away before the people go in, but the resulting smog over Thailand from all the burning is yuck!!! On top of that is all the other indiscriminate burning of anything that is not needed, which includes a lot of plastic products.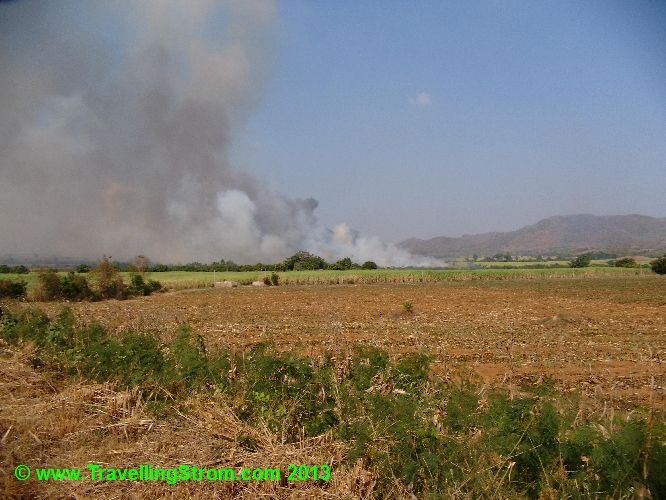 But, I guess until they can all afford mechanical harvesters, that is the way it has to be. So, I continued on and around 4.20 arrived in Kanchanaburi. Here I went to the first lodging on my list, the Jolly Frog but it was totally booked out. I had more success at the next one, called of all things, the Sugar Cane Guest House N14.03289 E99.51948
I was quickly booked in and relaxing on my pontoon cabin over the River Klong where I watched a great sunset, only occasionally disturbed by hoons on jet skis or the roar of V8 long tail tourist boats with no exhaust system, it must be loud next them engines!!!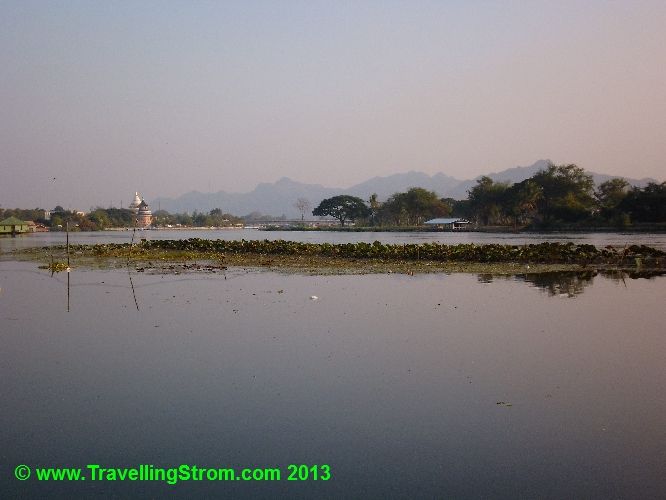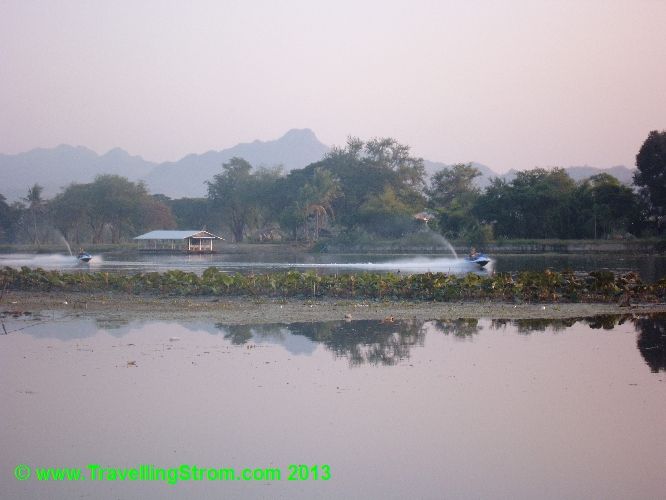 I grabbed a nice meal up at the hostel, it was big noodles with chook and vegies, very nice.
I had a totally quiet evening, I was quite tired and probably a bit dehydrated, but I had plans for the next few days. I had also been told about a bike show in town for Friday and Saturday, so that might be interesting, as well as the touristy stuff I wanted to look at as well.
Cheers from Kanchanaburi
TravellingStrom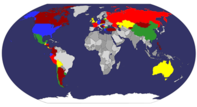 4 Responses to "South to Kanchanaburi"
January 21, 2013 at 13:17

Glad you made it.
Life along the river banks, with the louts and their noisy craft, can be a nightmare but The Authorities have 'cleaned it up' so it may be bearable now.
Until a floating karaoke filed with drunk Bangkok uni students slowly floats by!

January 22, 2013 at 6:31

all looking good Rich