Gallipoli – 2
Posted by TravellingStrom on April 23, 2012
The Gallipoli Countdown and the Mayan Prophecy Countdown
As you can see I have two days to get to Gallipoli if I want to get there for the dawn service.  This is going to be a tad difficult now. 😦  I am only 2200km from Istanbul, so a couple of days ride, I have a bike, but there is a slight paperwork issue, caused by Qantas Freight
This is what has been happening:  One of the many things that I knew I had to do, was to get a Green Card, this is a document that is basically 3rd Party Insurance, which covers another person if I run into them.  This is needed throughout Europe.  I knew, from Beemerbird, that it could be bought at an ADAC(German equivalent of AAA), this document is needed to get the bike out of customs.  What I did not bank on was at the local office that Igor took me to, the chap there knew nothing about it and that meant I needed a large or head office.  They are closed on the weekends, of course!
My bike was in transit and arriving on the Sunday morning and it did arrive(well the plane did) but I could do nothing until Monday.  If you are wondering why this was not done prior to leaving Oz, I was reluctant to buy something online 25 days in advance, when the bike was still in Oz.  Anyway, Sunday was a relaxing day inside, it was raining outside and cold to boot!  Elizabeth (IBs wife) works at the airport and after making a few calls, found an ADAC office that could do the deed Monday morning at 9am.  She would take me there on her way to work, help with the Green Card, take me to the cargo place and once the bike was with me, go to work, all sounds good to me 🙂
So, lucky for me I found some of these to pass the time 🙂
Here are a few images of the area and the soon to be workshop, in the first one you can see the city of Frankfurt in the distance, we are in a small mountain village about 30km away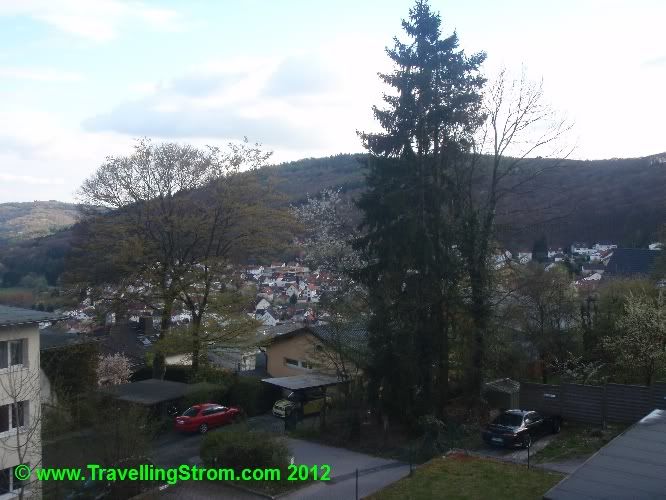 So, Monday arrives, we head to the ADAC office and the computers are down, f%#k!   After 20 mins or so, we came back from having a coffee and proceeded to do the paperwork.  Very easy, a bit costly at 210 Euro for two months insurance, but I was going nowhere without it, and after a short time, I was good to go 🙂
The next goal was to find the cargo office, this was a small challenge as the road system around the whole airport complex was a bit confusing, but in the end we actually found gate 31(tor 31) and then after registering for entry into the area, found building 531d not too long after 🙂
It was a short stop, I gave them my Waybill receipt, they gave me my Carnet and attached paperwork and told me to go find customs and once they had signed and stamped the release, bring the paperwork back and they will give me the bike. The bike is here, but I have not seen it yet 😉 So off down the road we found the customs house.
This is where we hit a bit of a snag, as I had noticed when I looked at the carnet paperwork, there is a section that is supposed to be signed by customs in Australia, this is to signify the vehicle has been exported from Aus and will be signed in again on its return, one of the basic parts of a Carnet and means I get my deposit back on my return. This is what it looks like
I cut out the middle bit, which is just the vehicle details. The important point is it was never signed, idiots at Qantas doubled my cost and did not do their job, I feel ripped!!! Anyway, after a bit of discussion with the German customs people, (and showing my Green Card)they issued me with a TVIP or Temporary Vehicle Import Permit, which will allow me to ride around the EU, but it means I cannot enter any countries that require a Carnet, until that document gets filled out correctly. So, a sort of win, we headed back to the previous office in building 531d and I handed over 16 Euros and received a plastic tag with a number on it and told to go to the ramp just down the side and they will bring the bike, that worked a treat, wrapped like a big birthday present 🙂
So, now that I had the bike on my side of the line, I could start unwrapping and getting ready to ride, thanks to Elizabeth for your driving and translation, it certainly made it easier 🙂
The next step was to find out where Qantas Freight was hiding in this massive complex, as it turns out it was the building next door on the fourth floor and I went and had a bitch about the paperwork. Sven was a nice enough chap and said he would do what he could to get this sorted out, but as Oz had gone home by now(8 hours ahead) nothing could get done until tomorrow, but he copied the blank paperwork and scanned and sent it off, with a cc copy to me.
As I returned to my bike, one of the Fraport workers(the airport company Frankfurt Airport) drove past in his golf cart thing and stopped for a chat, this is Julian, he rides a cruiser and got t-boned last year some time and spent a few months in hospital with a busted leg, goodonya mate, get back on and ride(he showed me the bike mag under his delivery dockets, so he is still keen 🙂 )
Next up was the fun part, I get to ride on the wrong side of the road through small villages and on the Autobahn, but I took it easy as I needed fuel which I found about 20km away(I had left around 5lt in the tank, so I was good for about 100km). The tank took 20lt and I was a bit amazed at the price, 35E which is $44AU, so my budget is going to allow for 1 tank of fuel per day at that price, but I can eat noodles and if I have to, hang back on the beer 😉 Anyway, it took about an hour to get back to IBs place where we started the task of replacing both tyres, front tyre first.
IB has this you beaut tyre changing machine and a new addon lever thing to to the work which he wanted to try, needless to say, having this gadget to break the bead, remove the old tyre and slap on a new one was better than a couple of tyre irons!!
It worked very smoothly on the front, but was a tad harder on the rear, which is twice the size and with the cold air, a bit of a struggle. But, a bit of tyre lube and some good old hands on, the job got done and I now have a brand new set of shoes, Heidenau K60 Scout, the first time I have used one on the front, but the last rear went for about 20,000km and they stick like shit to a blanket, so I reckon they should be good in the alps 🙂 The old one was flat in the middle and the side knobs are starting to get torn off, this is age, I did not ride much in the past year.
I had intended buying these tyres in Oz and installing them in Brisbane before I flew out, but the cost was going to be just under $500. I bought these from a German online shop, had them delivered in two days to IBs place, cost me $230AU, a bargin!!!
Anyway, the job was done, after a tidy up, the bike was ready to go. We had some nice tucker and I wrote this up, probably the last for a few days, on my way to Turkey tomorrow, but am taking it easy now, there is no chance of making it to the Istanbul Bikers Club in time for the ceremony, so although I am going to visit Lone Pine and Gallipoli itself, I will now wait until I have seen a bit of the southern part of Turkey, then it will be a bit quieter up north with most of the flocks of Aussies moved on.
Schuess
TravellingStrom
17 Responses to "Gallipoli – 2"